Kiváló - minőség Németországból
Complementary feed for dogs
Our canned food BELCANDO® Single Protein is available in six selected meat varieties. Single Protein cans can also be used in combination with the food supplement BELCANDO® Mix it GF for diagnosis (elimination diet) and sustained feeding for food intolerances. Also ideal as a source of protein in elimination diets.
Single Protein can be used for long term feeding for food intolerances - again in combination with Mix it GF.
For a balanced diet we recommend feeding 2 parts BELCANDO® SINGLE PROTEIN Water buffalo + 1 part BELCANDO® Mix it GF dry food. Average quantities for feeding adult dogs with normal activity levels are listed in the table shown. The correct feeding quantity is best determined by regularly checking the dog's weight. Fresh drinking water should be available at all times. Once open, store in the fridge for max. 24 hours.
| | | |
| --- | --- | --- |
| *Weight | **Single Protein | *** BELCANDO® Mix it GF |
| 3-5 kg | 80-100 g | 40-50 g |
| 5-10 kg | 100-160 g | 50-80 g |
| 10-15 kg | 160-240 g | 80-120 g |
| 15-20 kg | 240-300 g | 120-150 g |
| 20-25 kg | 300-360 g | 150-180 g |
| 25-35 kg | 360-440 g | 180-220 g |
| 35-50 kg | 440-600 g | 220-300 g |
| 50-65 kg | 600-800 g | 300-400 g |
| 65-80 kg | 800-900 g | 400-450 g |
* Adult weight ** Canned food in grams/day *** BELCANDO® Mix it GF g/day
Complementary feed for dogs
Összetétel
Water buffalo meat, -lung, -liver, -kidney, -spleen (Bubalus arnee) (73 %); Water buffalo broth (27 %)
Összetétel elemzés
Protein 9.5 %;
Fat content 8.5 %;
Crude ash 1.0 %;
Crude fibre 0.3 %;
Moisture 79.0 %
Adalékanyagok/kg
-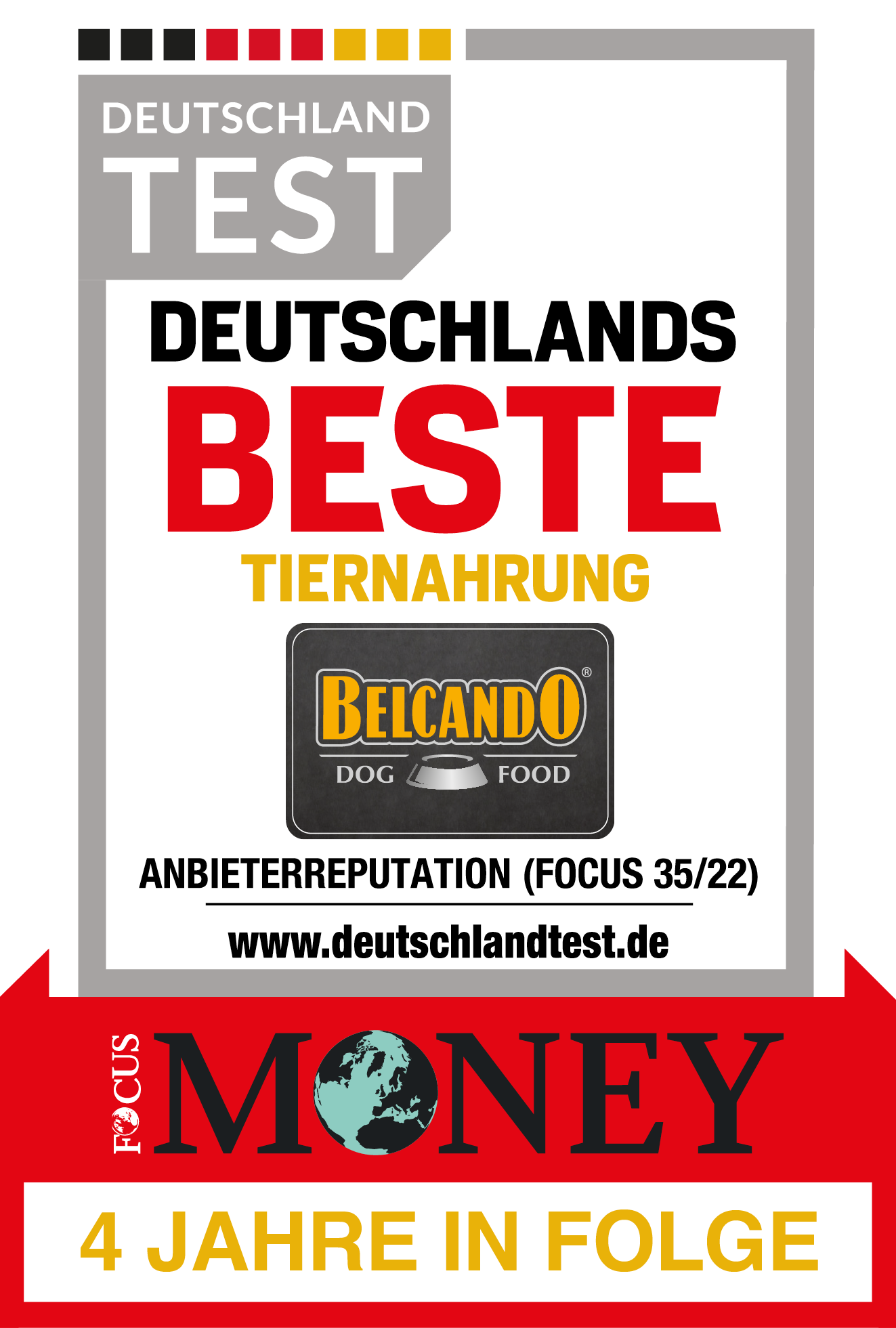 Garanciánk a minőségre
Németországban készült

Garantáltan a legjobb összetevőkből

Legkiválóbb ízletesség és emészthetőség

Kizárólag emberi fogyasztásra is alkalmas állati húsokból készült

Extra friss színhússal
Szívesen lemondunk ezek felhasználásáról
az állatkísérletekről

a szójafehérjéről

a mesterséges színező-, íz- és tartósító anyagokról

búza (Adult Multi-Croc kivételével)